Download the CertainError Calculator App
The CertainError Calculator App is available on both Apple and Android Platforms.  This calculator includes the Patent Pending Chordals and Duals Methods, as well as Traditional, Interval, Monte-Carlo, and Differential methods.
The CertainError Calculator allows for faster, easier, and more accurate calculations of error. You can select select different methods for your inputs, and compare them to see how the different methods compare to each other.
What makes the CertainError different? Fewer steps for problem solving, less processing requirements, and you can even DIVIDE BY ZERO-WITH-ERROR. CertainError Software is also available for more robust institutional needs.
Watch the CertainError Calculator in action below...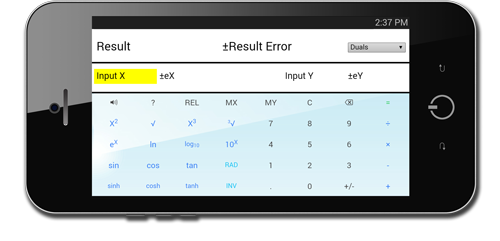 ---
The CertainError Calculator is available for both Apple and Android
Use the links below to download the CertainError Calculator app.
---
Calculator Challenge - CertainError Calculator vs Scientific Calculator
Watch as the CertainError Calculator out performs a scientific calculator